Cop Threatens to Arrest Woman For Fuck Bush Bumper Sticker
First posted here http://sisterstalk.tblog.com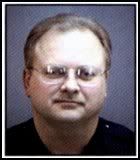 Denver police officer Sgt. Michael Karasek threatened to arrest Shasta Bates because she flaunted a "Fuck Bush" bumper sticker on her truck. One man confronted Shasta Bates while she stood inside a UPS store about her bumper sticker, saying it bothered him. He then went out to find Karasek.

Karasek then entered the UPS and threatened to arrest Bates if she didn't remove the sticker. Bates filed a complaint. Karasek will be disciplined, but specifics on how he will be disciplined weren't mentioned. I keep thinking I need a "Dumb Ass" category. What was this guy thinking? Did he think he would be able to bully Bates into submission just because he was a cop? Props to Shasta Bates! Thanks to SistersTalk reader Dawn for the tip.


Hmmm, maybe I should reconsider my "Bush Thinks You're Stupid" bumper sticker?